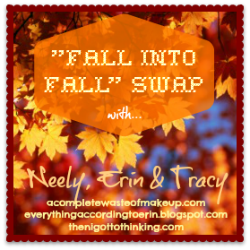 My amazing Fall Swap partner Sara from Miss V's Busy Bees sent me the best package in the world! I'm currently up in PA visiting family for the week and so wish I would have took pictures prior to leaving. I guess this is what happens when you have a little guy dictating your life :) no complains!!! :)
I received a box full of delicious smelling candles and hand sanitizer! Soo ready for fall! A cute pumpkin candle holder and a stuffed pumpkin that smells like October :) Nail polish...and a Starbucks card to top it off! Everything is placed around the house in its new home!
Thank you so much Sara for the thoughtful gifts!
Click here to see what I sent!